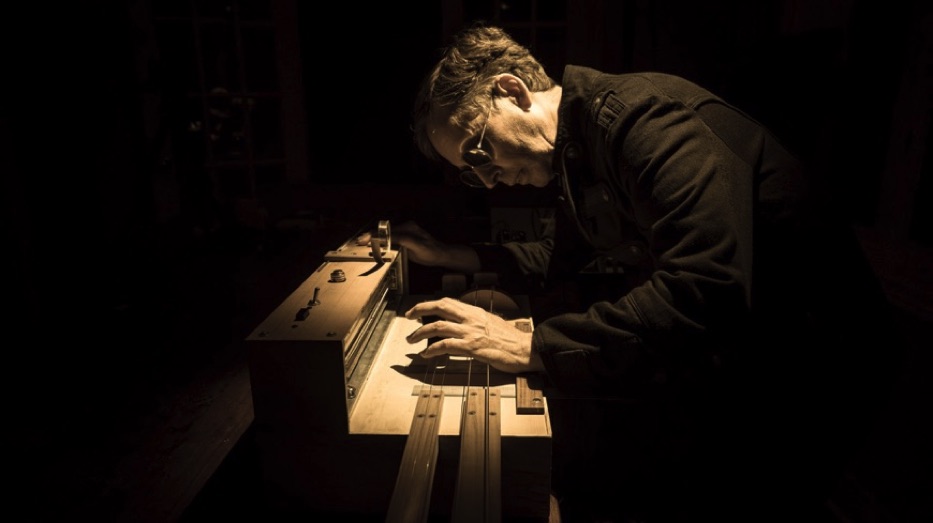 "The Most Terrifying Musical Instrument Of All Time".
                                             - Brian Eno
"Among the night's engaging performers was
The Apprehension Engine".
                                             - New York Daily Times
                                               on the Into the Veil festival
NSTRUMENT CONCEIVED AND DEVELOPED BY
      MARK KORVEN & TONY DUGGAN-SMITH
           BUILT BY TONY DUGGAN-SMITH
Film composer Mark Korven (known for his haunting score for THE WITCH) and Tony Duggan-Smith have teamed up to create a musical instrument specializing in horrifying sounds called THE APPREHENSION ENGINE.  Lots of attention so far with over 10 million views on youtube and CNN  who created a very successful mini-documentary on it for their GREAT BIG STORIES series. Also, 140 articles and interviews have been written about it.
Mark will be taking it on the road in October, performing for INTO THE VEIL which takes place in the 200-year-old Greenwood Cemetery in Brooklyn, NY.  This time it takes place on Friday the 13th and 14th. It will of course take place at night, and the only light will be candle light. 
Mark will also be in Spain to perform on the popular Spanish Entertainment show El Hormiguero. It's a horror theme that day, also featuring the cast of STRANGER THINGS.
LIVE PERFORMANCE DATES:
Brooklyn, New York - Into the Veil Festival - September 2017
Madrid, Spain  - El Hormiguero TV show - September 2017
Guelph, Ontario - Silence Club - September 2017
Birmingham, U.K. - Supersonic Festival - June 24, 2018
Chicago, U.S.A. - Into the Veil Festival - Sept 23, 2018
Waterloo, Ontario - Numus Festival - February 22, 2019
Montreal, Quebec - Pop Montreal Festival live stream
- June 7, 2020
Brooklyn, New York - Atlas Obscura live stream
- June 11, 2020